Bedford New Hampshire
Garden Club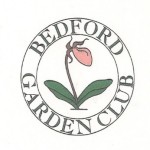 Welcome to the Bedford Garden Club of New Hampshire!  If you enjoy "digging in the dirt", good company, and helping to beautify the Town of Bedford, we invite you to join us.
Our men and women members meet in friendship to pursue a common interest of "gardening." We are not just a club of gardeners, but lovers of flowers and trees, birds and other wildlife, herbs and vegetables, coastal and inland wetlands, conservation and ecology, and landscape design.
Bedford Garden Club is a tax exempt organization under section 501(c)(3) of the federal tax code. Founded in 1935, the Club is organized for charitable and educational purposes focusing on civic improvement, horticulture, and conservation.
Educational programs are presented at our monthly meetings, held on the 3rd Monday of the month.  These programs can focus on such topics as attracting birds, dividing perennials, organic yard care, or floral arranging. Additional educational activities are provided through our donations to the Bedford Public Library.
Our members are dedicated to the care and maintenance of several areas within the Town of Bedford. Small teams meet periodically for pruning, weeding, planting and decorating. Other activities during the year keep us interested and involved in the community.
Please become a member.  Some of us are experts, many are not, some will teach, all will learn!