BEDFORD GARDEN CLUB'S ANNUAL PLANT SALE
Date:  May 21st, 9 – 11 am
Place:  Bedford Town Hall, 70 Bedford Center Road
Bedford, NH 0311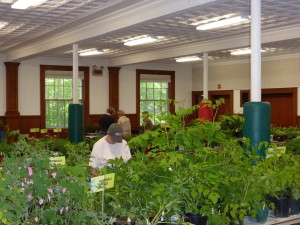 With the help of many volunteers, the Bedford Garden Club will transform Bedford's historic Town Hall into a "garden-room" filled with hundreds of lush plants for sale.  Besides the plants that are dug and potted by members, there will be selections from a local grower. A wide variety of sun and shade plants will be available for purchase such as perennials, herbs, groundcovers, shrubs, annuals and select vegetable plants.  This is a great opportunity to stock up for spring planting.  Several Master Gardeners will be on hand to answer your questions about garden design and plant selections. 
This is the club's major fund-raising event of the year.  Proceeds from the sale are used to maintain the club's eight community gardens throughout the local area and to fund its educational programs that are offered at monthly meetings, open to the public during fall, winter and spring.  This year, the club is celebrating 81 years of service to the Bedford community.