GARDEN CLUB ACTIVITIES
Outside of our regular monthly meetings, other activities are scheduled periodically by interested members.  Generally, expenses are the responsibility of each attendee. These activities may be scheduled anytime during the year, so please check the website for updates.
Workshops
These classes that provide opportunities to learn new skills by demonstration and individual practice.  The presentation may be given by a member, an expert or a friend of the club.  If you have a talent to share, please let us know!
The 2016-2017 Workshops are being planned right now.
They will be published shortly.
Here is a sample of some of the workshops from last year

Dividing Perennials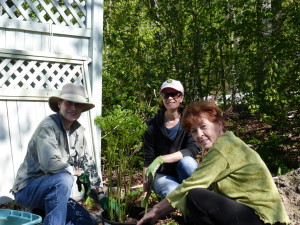 Creating your own Hypertufa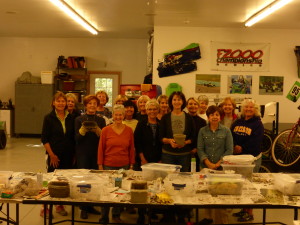 Create a Garden Ornament

Field Trips
Once in a while it's fun to visit new places.  These are often impromptu events planned when someone wants to share a trip.
2016-2017 Field Trips are planned throughout the year.
Refer to this page throughout the year to see what is new.
Here is a sample of  field trips from previous years.
Poinsettia Trials & Open House
McFarland Research Greenhouses at UNH in Durham
The Poinsettia Trials is a collaborative event to bring research trials to breeders, growers, and the public. This research allows breeders and growers to evaluate regional differences in the growth and performance of new cultivars.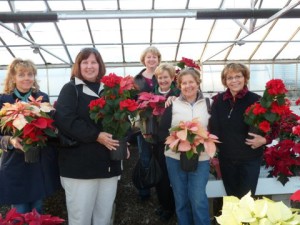 Christmas at The Fells
Newbury, NH
This spectacular Holiday event is held every year at The Fells Historic Estate & Gardens, one of New England's finest examples of an early 20th-century summer estate. Take the historic guided tour of the 22-room Colonial Revival home grandly decorated for the holidays.
Meet and Greet Events
The Bedford Strawberry Festival, held every June is a town-wide celebration of the people and organizations that make up our town.  The Club sets up an introductory table with materials that show our educational and civic programs, and a raffle is held for a special garden ornament designed by one of our members.
A Wine Social is held annually at the home of a Club member as an opportunity for new people to meet members and learn about membership opportunities.
Olde Towne Day is Bedford's annual fall festival.